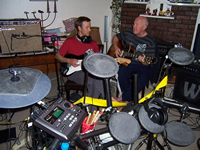 BassRick Ltd is predominantly a company designed for the manufacture and marketing of music. However over time, the function of BassRick Ltd has expanded into several other avenues. The studio and company premises are based in CARTERTON, New Zealand and is owned by John Mabey.
The studio sound I manage to get from the systems I am running and the surroundings has been commonly described as "live" and "energetic". Needless to say, rock bands love to record here.
The studio has also been used for jingles, voice over's, Foley work for plays, radio advertisements, radio plays and solo artists.
I am the sole shareholder and director of the company and write and record my own songs as well as act and perform in theatre productions. To date, I have recorded three (3) albums here at BassRick Studio 2 and recorded some 20 local artists.